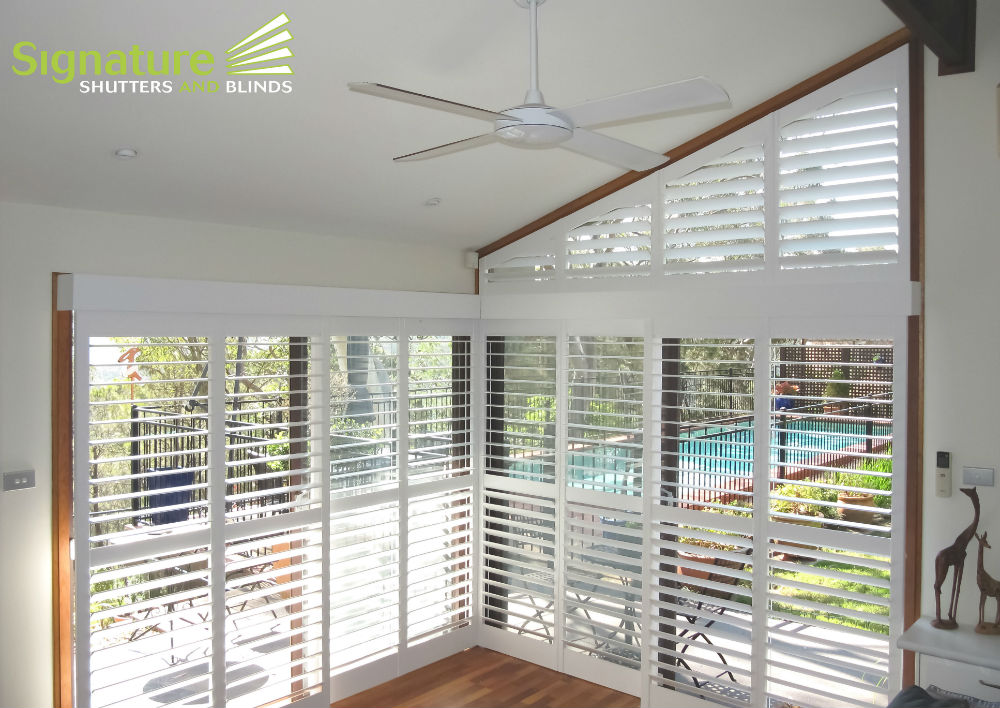 Heat Issue?
A customer came to Signature Shutters and Blinds looking for help with a heat issue they were having with their back living room area. In the summer months the scorching afternoon sun penetrated through the westerly facing glass doors and made it unbearable to reside inside the room for any length of time. With the heat of the afternoon sun, came the issue of glare and sun damage to the furniture and floor. After not being able to put up with it any more, they call in the window insulation specialists to resolve their heat issue.
 Solution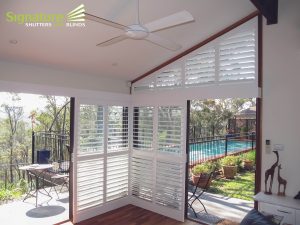 Signature Shutters and Blinds' expert installers suggested using the natural insulating properties of our timber plantation shutters to resolve this sunny dilemma. By installing sliding plantation shutters that ran on a top track only, avoiding any trip hazard, Signature's customer was able to retain the functionality of her sliding glass doors and still have easy access to the back patio and pool area. The 'Clear View' louvers can remain open as the panels freely slide past each other enabling our customer to angle the amount of sun that is allowed through the window, but at the same time not lose the stunning view of the back yard and Kuring-Gai Chase National Park.
What's more, to make the triangular window facing the garden tie in with the sliding shutters, Signautre's installers were able to use the flexibility in design of their plantation shutters by creating triangular shutter panels. The louvers in these panels are also maneuverable. The customer and their family were truly surprised and delighted when they saw the finished result. There really is no limit to the uses and good looks of Signature Shutters and Blind's white Timber Plantation Shutters.