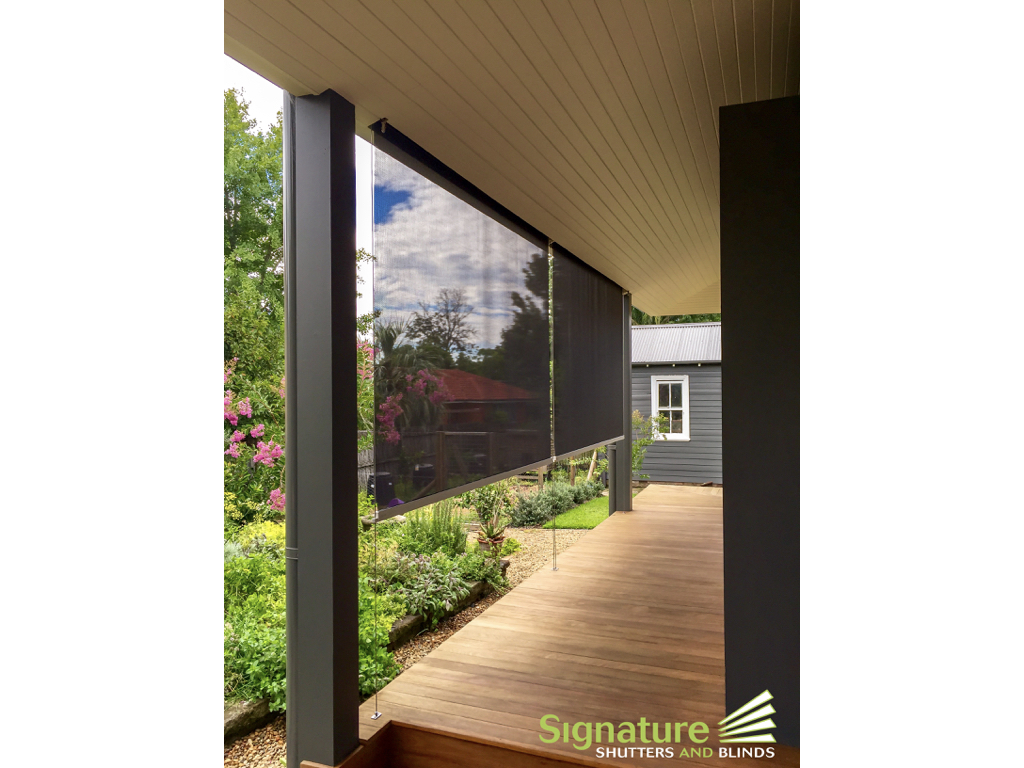 Avoid the hot afternoon sun with external roller blinds by Signature Shutters and Blinds
One of the best ways to protect your home heating up from the hot afternoon sun is to stop the sun before it reaches the windows. As glass is a conductor of heat and cold, the suns rays will pass straight through your windows, heating up the interior of your home like an oven. Creating a barrier before the sun has a chance to reach the windows is the best way to keep the inside of your house cool.
External roller blinds by Signature Shutters and Blinds are designed to shade your windows and keep the ambient temperature of your home more stable and comfortable. Our external blinds can be installed with or without a protective headbox to cover the fabric roll when blinds are not in use. Stainless steel guide wires keep the blinds from moving in the breeze and allow the blind to be used either fully down, all the way up, or somewhere in between.
our team can assist you to make the right choice for your home
The featured roller blinds were set into a cavity inside the ceiling and therefore protected from the elements. This way there was no need for the protective headbox. Our customer opted for manual operation to control these blinds. A light weight aluminium crank handle is used to raise and lower the blind. These external blinds can also be motorised and controlled via remote meaning operation is as simple as pushing a button. At Signature Shutters and Blinds we only use the European made Somfy motors for all of our internal and external blinds and awnings. Somfy are the market leaders of high quality blind motorisation.
With a wide selection of fabrics and colours to choose from, our team can assist you to make the right choice for your home. External roller blinds are usually made with a mesh fabric to allow you to see through them and retain your views. However if the hot sun is really too strong, we do offer blockout fabrics made from acrylic to tame the summer heat.
Contact us to make an appointment for our team to come to your home and advise on how external blinds will make your home more comfortable and energy efficient.