Entry doors with glass panels are a great idea for areas such as laundries as they allow light in and brighten the room. The extra light makes the laundry feel bigger. As the laundry can quite often flow through to other areas of the house like the kitchen, that extra light can brighten those rooms too. But what do we do when we need privacy?
Typically entry doors with glass panels can be difficult to cover with window furnishings. The door handle can often make it impractical for roller or venetian blinds to be used. What's more, window furnishings such as roller blinds tend to move a lot each time the door is opened or closed. This can cause the base rail to 'tap' on the woodwork of the door and the sound can become bothersome.
So what's the solution?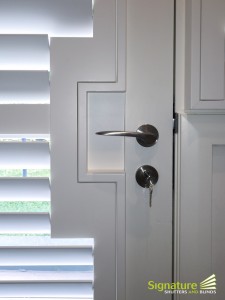 The specifications of internal timber shutters by Signature Shutters & Blinds allow them to be adaptable and can be custom made to just about any need… even over entry doors with glass panels. The shutter panel is installed inside a frame and attached directly on to the inside face of he entry door. This allows the blades of the shutter panel to be moveable and also permits the panel to be hinged. This is important as it gives access to the glass making cleaning easy. As with shutter panels that are installed on windows, the panel itself stays closed with bullet magnets meaning the shutters does not move when the entry door is opened or closed. Shutter panels installed on a door are designed in such a way that they allow for the door handle to still be fully functional and accessible.
Thanks to the flexibility in design of plantation shutters, it is easy to have privacy when you need it and keep the same look on all windows and doors through out the entire home. Contact us today to arrange your obligation free measure and quote.